INGREDIENTS
1

tablespoon EVOO

1

200g can of Corned Beef by Apis

8

Corn tortillas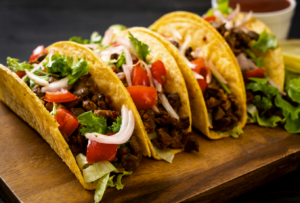 Preparation
In a large skillet over medium heat, heat the oil.
Open the can of Apis corned beef and place the meat in the pan with the oil. Spread the meat with a spatula.
Cook about 15 minutes, stirring frequently to cook evenly.
Heat the tortillas over direct heat.
Spoon the cooked corned beef into the center of each tortilla.
Serve and enjoy!
Tip:
You can accompany with: lettuce, fresh onion, tomato, green, red and / yellow peppers.
You can also add Apis fried tomato, sour cream or another sauce like yogurt. They are delicious!